What is Reiki Restorative Yoga?
Reiki Restorative Yoga is a deeply meditative and restful practice where Supported variations of ancient sacred shapes are used to allow participants to receive group hands on energy work while allowing the body to release stress and tension. In this offering the teacher offers a warm gentle touch, or Reiki, to assist in a deep relaxation process that promotes the body's Natural Healing abilities.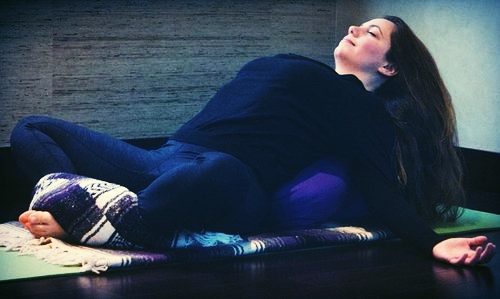 20 Hour Teacher Training (CE)
This 20 hour certification course combines the ancient wisdom of Yoga and the modern practice of the Usui Reiki System of Natural Healing*.

The intention of this course is to share an incredible and transformative offering that is accessible to most people. Restorative Yoga does not require you to be strong or flexible. If you have a body, a mind and breath you are qualified for this incredibly supportive practice. This course aims at inspiring teachers to step into the roll of a holder of sacred space and to see their touch as an incredibly soothing catalyst for soul centered well-being.
PARTICIPANTS will learn:
To both practice and teach Reiki Restorative Yoga

How apply the 7 Chakra Subtle Body System to inspire Holistic Well-being

Key Restorative Poses to support Holistic Wellness

How to safely apply gentle warm touch in order to create a calm and peaceful impact

How to comfortably situate your body while offering Reiki Hands on Assists

Correlations between the Yogic Traditions and the Practice of Reiki

How to infuse your yoga offerings and hold sacred with Reiki

Reserve your Spot // $144 non-refundable deposit
Tuition // $444 total

**The course participants are required to be a certified Reiki Practitioner to qualify.
***This course is intended for 200HR Certified Yoga Teachers, however, being a YA Registered Teacher is not required.
20Hr Reiki restorative YTT Schedule
YA Continued Educational Breakdown
Techniques, Training & Practice (TTP)
5.00 - contact | 1.00 - non-contact
Teaching Methodology (TM)
5.00 - contact | 1.00 - non-contact
Anatomy & Physiology (AP)
2.00 - contact | 2.00 - non-contact
Yoga Philosophy, Lifestyle & Ethics (YPLE)
3.00 - Contact | 1.00 - non-contact
Total CE - 20 Hours
*The healing components of this training are based on the practice of Reiki and are not derived from Nicole's status as an 500HR E-RYT with Yoga Alliance. **This course is listed on the Yoga Alliance website because it reflects the ideals and standards supported and promoted by the organization, however it should be noted that these standards are not thoroughly monitored by the establishment.